Hong Kong Awards for Industries
The Hong Kong Awards for Industries was officially launched in 2005 by merging the former Hong Kong Awards for Industry and Hong Kong Awards for Services, established in 1989 and 1997 respectively, to rationalise and update the two award schemes. The merged awards scheme continues to recognise the outstanding achievements of Hong Kong enterprises in their move towards higher technology and higher value-added activities. The Awards cover seven categories.
Overall coordination is provided by the Organising Committee of the Hong Kong Awards for Industries. This Committee is chaired by the Director-General of Trade and Industry with membership drawn from trade and industrial organisations and industrial support bodies in Hong Kong. Within the guidelines set by this Committee, annual competition in each of the seven award categories is held and run by a different organisation (known as the "leading organiser").
The Federation of Hong Kong Industries is responsible for the consumer product design category; the Chinese Manufacturers' Association of Hong Kong for the machinery and machine tools design category; the Hong Kong Retail Management Association for the customer service category; the Business Environment Council for the environmental performance category; the Hong Kong General Chamber of Commerce for the innovation and creativity category; the Hong Kong Productivity Council for the productivity and quality category; and the Hong Kong Science and Technology Parks Corporation for the technological achievement category.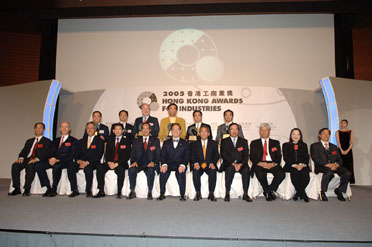 ( group photo: 2nd from the right side) Mrs. Wu, General Manager of Topfine
Topfine is the ' Winner of Hong Kong Awards for Industries ' in the category of
' Machinery and Equipment Design '.
For more information you can contact us under following address. We are glad to provide you with more detailed information.
Topfine Precision Machinery Co., Ltd.
2 Wang Lee Street, Yuen Long Industrial Estate, N.T., Hong Kong

Phone: ( 852 ) 2454 8298
Fax: ( 852 ) 2454 8019
Mail: info@topfinemac.com
web: www.Topfinemac.com